Baby booties are always in demand. People just seem to keep having babies, and who looks cuter in a bootie than a baby? Customers are very satisfied with the results they get from our patterns and often comment on how quick and easily our booties work up. Here are the top 5 booties patterns:
#5:
Cross Strapped Shoes
These booties use worsted weight yarn of your choice and either a 5mm or 6mm hook. If you can chain, single and double crochet, you can make these adorable booties. Once you've made the first pair, you can make a pair in about 20 minutes!
addictive....
The pattern is available here.
and here
Use the pattern to make sizes newborn to 6 months.
#4
Babies First Shoes
These classic single strap shoes are good for boys or girls. The pattern comes with instructions for sizes newborn, 3 months and 6 months. It works with worsted weight yarn in your choice of colors.
Customers always comment on how the lovely photographs in the pattern help keep them on track as they learn this simple pattern.
As always, our patterns are written in full english without abbreviations
Get this pattern here.
#3
Sweet Caroline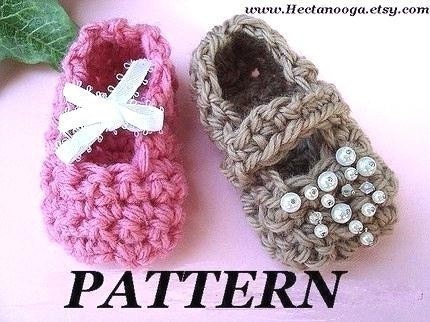 Emi designed these booties with beginners in mind.
Her patterns are designed to be as simple as possible, and this one is no exception!
These little booties have no complicated decreases, or increases in stitching. The two rows of increase at the toe end of the bootie, are so simple to do! After that, it just plain single crochet!!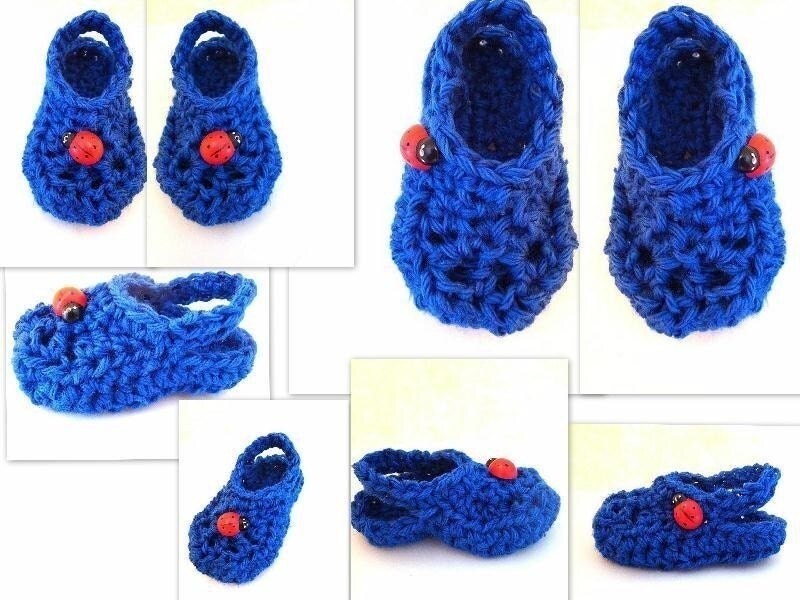 Summer is around the corner! These cute crocs are great for stylish little ones.
This pattern takes the mystery out of making crocs! If you have gotten frazzled over croc patterns before, (and I am sure some of you have), then this is the answer for you. Straight forward pattern and works up fast.
Make a pair in about 1/2 hour! Lots of photos.
These are stay on crocs, the straps are not able to be flipped to the front. But they are oh so cute!!!
To make these crocs you will need knitting worsted yarn, and different size crochet hook for the 3 sizes:
4.5mm (US 7) for newborn,
5mm (USH8) for 3 month size, and
5.5mm (US I-9) for 6 months size. Get your pattern at Ashton11's pattern shop.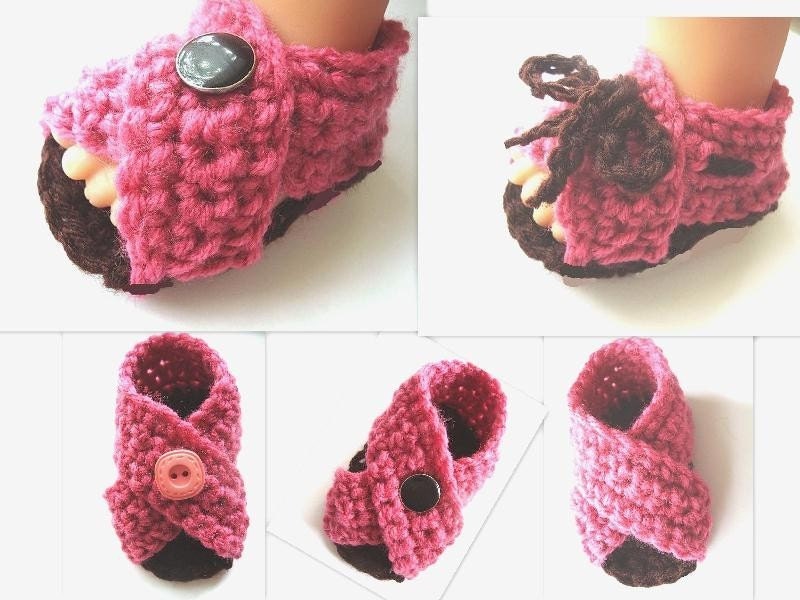 The title of these booties says it all!
Cute little open toe sandals for the hot summer months.
These are just too darling, and very easy to make, with step by step photos of the process!!
These should be easy enough for beginners, as there is a detailed explanation along with the photo illustrations.



There are even more bootie patterns available in our shops.
Which is your favorite?